Little Free Library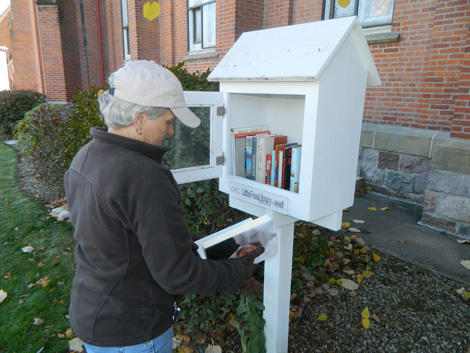 The Little Free Library, a national, grassroots program, encourages people to put these libraries in the form of small boxes with a glass front door on a post in their front yards or approved public spaces in neighborhoods and other locations. The library holds a small amount of books that adults and kids can take for free, and when done reading them, return the books on the honor system. People are also free to drop off their own used books in these little libraries.
The St. Joseph County Literacy Council decided to take part in the program as a way to foster literacy in our area. The council is building Little Free Library boxes and will be placing them at various locations in towns, throughout the county, usually away from the town's public library, to put more free books within walking distance of more adults and kids.
Take a book, put one back. It's a way for all of us to encourage reading and book exchanges, and grow the sense of community in our neighborhoods. To learn more about our local efforts, go to the Contact Us page to send us an email, or just give us a call at (269) 816-2057.
You can learn more about how the program works at the Little Free Library website or by watching the video on the Little Free Library Story.