Council President Ron Hooker Speaks at Head Start Family Night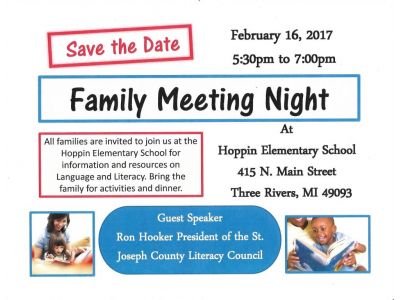 Literacy Council President Ron Hooker addressed Head Start Family Meeting Night at Hoppin School in Three Rivers. The program was intended to inform parents of Head Start students about the services offered by St. Joseph County Literacy Council. President Hooker told attendees of the free tutoring offered to any adult county resident as well as the "First Book" program and "Little Free Libraries" that are sponsored by the Literacy Council. He stressed the impact that adult literacy has on children's learning and urged all present to "go home and read to their kids". Those attending had dinner provided and also had the opportunity to take "become a tutor" or "become a student" flyers as well as presciption discount cards donated by the Children's Miracle Network.
Head Start is a wonderful initiative and we are so happy to be partnering with them and hope to do so in the future.
Scroll down and click on picture(s) to view.